33nd Swiss Juggling Convention Resume
Resume
As is common for such events, we met in a nice place in Lichtensteig, in the canton of St. Gallen, in the german part of Switzerland.
The convention took place during the last weekend of August.
This time, we had no gym room to juggle, but a small place in a "Werkstadt" (un atelier, a workshop). We could eat and sleep there. The food was very good, and since we were not to many on Friday evenig, we had enough place to juggle. Friday evening, a concert played for the joy of the jugglers.
Fortunatly, Saturday and Sunday, the weather was beautifull and we juggled on a big field, near a river, where some jugglers swim. The place was 10 minutes walking from the small city. We could buy drinks and food on the filed.
Saturday evening the traditional public show took place, in the "Werktadt". Only a few people from the village came, but those who came where very pleased by the show, which was very nice.
Later, at midnight, a renegate show began at the same place.
Sunday, under a big Sun, we juggled again on the big field near the river. At one o'clock, the games began. They where very original, some games where planned for kids. Erveryone participated, it was a very nice moment.
The business meeting took place juste after. One nice point is that at least 15 former convention organizers were present. It was also nice to meet there Peter Marti, on of the organisers of the first Swiss Juggling Convention.
Big thanks to Mirko Kranjc and Jaime Loughi and their team for this beautiful convention.

Old announcement of this convention
At the business meeting, a groupe of Geneva proposed to organise the next convention in 2020.
Another groupe from Basel, who planned to organise the convention in 2020, agreed to shift their organisation to 2021.

Here some photos of the festival.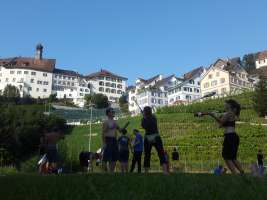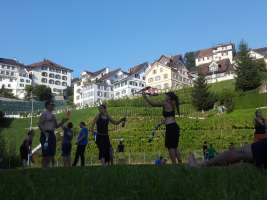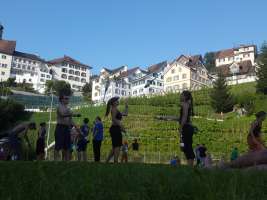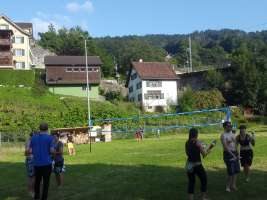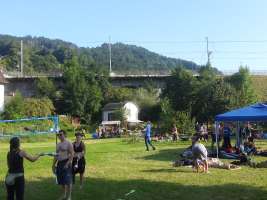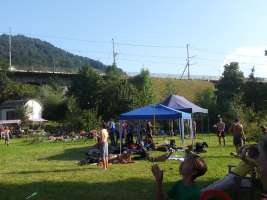 Fabian training ...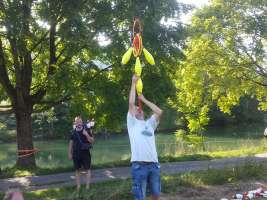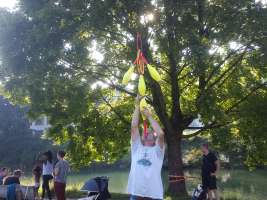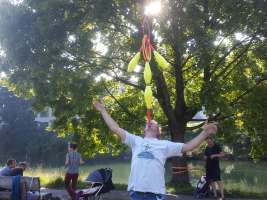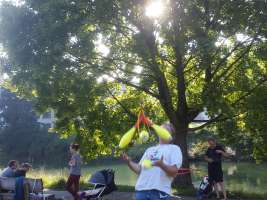 5 balles competition and The toss-up.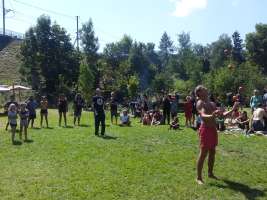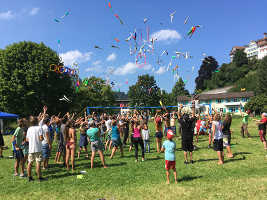 Mirco and Jaime, the main organisators, at the business meeting.

Please tell me the mistakes I made, in order to help me maintaining a correct page.

---
Site map : www.juggling.ch ( index.html )

history.html

convention2019.html

---
Last update done the 22nd of September 2019 by Bernard Gisin ( Send an e-mail )
Hosted by : www.Infomaniak.ch